CHAU TONG FISH FARM
WE HOPE TO SEE YOU AT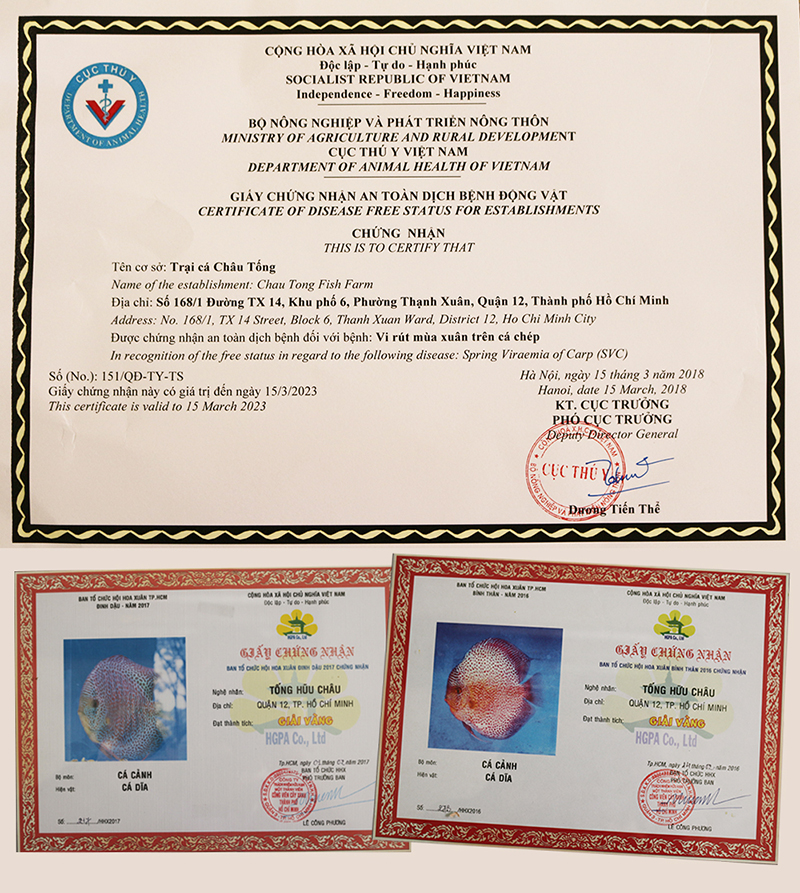 Chau Tong Fish Farm was founded in 1991 with the area of ​​3,500 square metres. After being renovated in 2017, the fish farm is now 5,000 square metres in area.
Since 1998:  the products of our farm have been exported to the Taiwanese, French and European markets. In 2003, our products began to be present in the United States, which is also our main market today.
In 2002: at the first Mekong Delta Machinery and Fishery, Agriculture Fair, Chau Tong Fish Farm was honored by the Ministry of Agriculture and Rural Development and Department of Agriculture and Forestry Encouragement as Farmers with Innovative Farming Practice.
In 2001 and 2016: the farm was awarded the Third-class Labor Medal by the President of the Socialist Republic of Vietnam. Since 2009, our farm has been allowed to export Koi fish to the United States market.
In 2013 and 2015: the Brand of Consumer Choice commendation and commendation of Agricultural Products by the Vietnam Farmer's Union were conferred on our farm.
In the Spring Flower Festival in 2016 and 2017:  we received two gold medals in Discus Fish Contest.

We specialize in producing and trading all kinds of fish such as Discus fish, Koi fish, wild and tropical fishes. Up to now, there are nearly 60 tropical freshwater fishes produced and sold in our farm.

We distribute different kinds of fish to up to 20 provinces all over Vietnam and a lot of fish showrooms in Ho Chi Minh City.